Summer days mean a sweltering sun and lazy days, and even though I work most days of the week, I would say I've definitely been a model for this classic image. Catch me at the beach reading a little Stephen King or on my couch drafting my way through my novels. It's a rough life, ya know?
In reality, I have to start at least thinking about my future. My snap answer to "What are you doing after graduation?" is "Oh, I'm moving to New York!" Yes, that's still my dream and no, I'm not giving up on it, but now that I am starting my senior year of college in less than two months, it's daunting. I know that is still my dream–and I will make it happen–but I have to start looking for jobs and places to live and publishers. I've been hanging onto my book for so long that I'm terrified to put it in anyone else's hands. Forty more pages and it might be time to send it into the world…
What a terrifying feeling.
It's late on Tuesday night–or should I say a Wednesday morning–and I'm on the couch with Kristin, watching That 70s Show and talking about her latest Tinder date, our family issues, and boy things. We bought some nicer-than-Barefoot pinot grigio and are distracted by boy band videos on Facebook.
It's kind of wonderful and it's been distracting me from the major anxiety I've been feeling the last few weeks.
It's not major, hyperventilating, crying in public, unable to control any kind of emotion anxiety. It's more like under the rug, creeps in during a slow Led Zeppelin song, driving up PCH alone kind of anxiety. With so many wonderful things happening in my life, it's difficult to believe that I could be feeling anything but happiness right about now. But I know very well that no moment is guaranteed bliss when you've been fighting a demonic mental illness since you were ten years old. And lately I've been trudging through an uphill battle.
I had relatively low levels of anxiety when I started grade school, but it really kicked into high gear when I was in fifth grade. I didn't know my intense nervousness was more than that yet. It began affecting my immune system and taking over when I was a freshman in high school. Still didn't have a name or reason for it. I didn't know what that sickening, sinking feeling was until junior year.
It's been hard for me to let go of that terrible, fluttery feeling in my stomach. Every day that I worked at Victoria's Secret the last year, I felt nauseous. I walk into the store and smell the slightly-comforting scent of Bombshell and prepare myself for the inevitable stress of impatient customers who passive-aggressively snap at me when something goes wrong. Something out of my control. Retail is so important, but it is also a major stress. I quit that job for the anxiety it gave me–which is no one's fault but my own. But now I'm a glorified Uber driver. I drive a couple of high school girls to and from summer school and tennis practice. I enjoy it, I do, and it causes me so much less stress than any retail job could.
But somehow anxiety gets to me anyway.
I can't talk to people as easily about little things that might get to me, about a kind-of-unsafe driver who switched lanes recklessly on my way home, about how I can't see a car that may look like a cop car without convincing myself I've done something wrong, about how I'll drive through an intersection and panic because I can't remember if the light was green (even though it was). Driving has always given me so much anxiety, but I act like it's the normal, everyday activity it is for most people.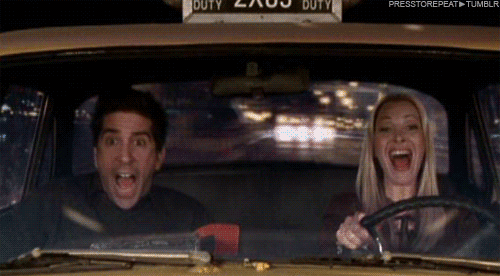 I am Ross every time I'm in the driver's seat.
I'm almost twenty-two, and I have the same sinking worries that I had when I was ten: do these people I care about actually like me? Do they think I'm worthy of their friendship? Are they going to stand by me when I can't stand myself? Despite the evidence that they will continue to be my best friends and support me through my rough days, I still can't help but grind my teeth in fear. Fear I'm not warranted to have.
I read a Teen Vogue article about anxiety today that completely represented how this illness has ruled my life for a decade–and how it has continued to impact me since I have completely embraced recovery from Depression. The article was mostly just a compilation of quotes from people with anxiety about the things they are afraid to tell their friends. Even though I do talk to my friends about my anxiety sometimes, these quotes hit the nail on the head on everything I can't say to them.
"I already feel like a huge burden, I don't want to add to it. And I honestly 90 percent of the time I can't explain why I'm anxious. So I'd rather not say anything and just get through it on my own."
This was one that really stuck out to me. Most of the time I can't tell you why I'm anxious or depressed because I simply don't know. It's just a feeling that creeps up on me. I can't stop it. There's nothing anyone can really do to help, either, so I just don't mention it. Instead of reaching out for any help (because to be honest, that doesn't do anything for me) I shut myself away from everyone for a while. I have to let myself fall into it to get out of it.
When I was in Burbank in May and my dad was driving me to the train station to come back to SLO, he brought up the ever-difficult topic of anxiety. I know my parents read my blog sometimes–so does my grandma–but it doesn't make it any easier to talk to them about any of this. It's my way of putting everything out on the table, but we never talk about any of it when we see each other. Except this one time.
My dad told me that he used to struggle with anxiety. I guess I wasn't surprised, but I just didn't think about it. I've always felt so distant from my parents that it just felt like they would never understand what it's like in my dark little world. But my dad did. He said my grandmother struggled as well–I never got to meet her, but I'm so much like my dad and his family that I guess it makes perfect sense. He said that if I ever have bad anxiety to talk to him and my mom about it. It's probably the nicest sentiment, to actually talk to the people that can help me, but it's far easier said than done. And like I said, it's so much easier to get through an episode on my own.
Maybe one day, Dad.
I'm trying to find a point here. Maybe it's that I need therapy–which is something I mentioned to Kristin during our wine-induced venting session. I've made a lot of progress on my own, but it's still hard. I mentioned to my boyfriend (yeah, you read that right) that I'm so much less responsive, talkative, and emotional when I text him when I wake up because sometimes I still can't feel anything in the morning. I wake up and I feel numb to the world. It takes a little while for actual feelings (of any kind) to kick in. That's why it takes me so long to get out of bed every day. That's the Depression in me, but it all stems from my anxiety. Sometimes it's still hard to be a real person, even with the people I care about the most. Every day I try to be better at it for those people and for myself.
I hate that all of this still gets to me, but at least I can feel now. At least I know that there is more than the numbness. And when I feel (or not feel) like everything is hopeless, I remember that it's not. I'm better than that.
See? All I need to do it write it all out to find that silver lining. I'll see you when I'm out of this little funk.
Thanks for listening.
Ash