It's the spookiest time of year, folks!! October is upon us, and I couldn't be more excited. Not only is Halloween one of my favorite holidays, but it's also one of the reasons I wanted to become a writer! And in a few weeks' time, catch me singing the first verse of "English Girls" by the Maine over and over. Mostly wishing I was in London in mid-October, like the song says. Like I so happily was last year.
But I digress.
Since it is Halloween time–aka the best time–I've been thinking about all the spooky, scary, and suspenseful movies I love watching this time of year. These movies either make me jumpy with (the good kind of) anxiety or nostalgic in the best kind of way. So here is my stockpile of movies I'll be watching this month! And then throughout the rest of the year to fill the void.
Hocus Pocus
This is a classic!!
Yes, it's a Disney movie, but it's the perfect balance of spooky and funny, and with the all-star cast of the Sanderson sisters and the super-cute leading man, you can't go wrong. Bette Midler, you get me!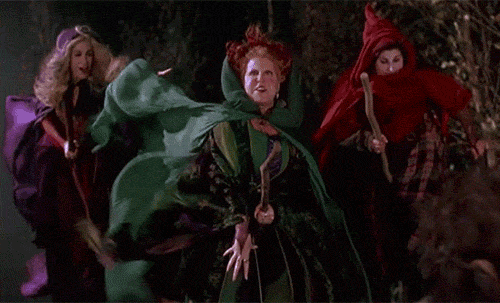 Halloweentown (and sequels)
Okay, okay, so it's Disney Channel, (not quite as good as regular Disney) but it's when DCOMs were the best movies to look forward to! I always think it would be fabulous to live in a town where it was Halloween all the time. With witches and goblins and trolls, there's no end to excitement.
To quote Marnie, "Halloween is cool." I couldn't agree more!
The Nightmare before Christmas
So this is a crossover between Christmas and Halloween, but Jack Skellington is one of the most iconic Halloween figures of all time. Like the previous movie on this list, Jack lives in a world where it is Halloween all the time. I mean, he grows tired of it and decides to take over Christmas, but that's not the point. The point is that Tim Burton knows how to successfully create a world that is dark yet humorous.
Sleepy Hollow
Calling on Tim Burton again, and Johnny Depp, of course, comes the tale of the Headless Horseman. It's suspenseful, mysterious, old-timey, and um, hello, Johnny Depp. And Christina Ricci–one of my favorites. Like most movies on this list, there is a twist at the end that makes it worth the watch. And I just can't say no to a period drama.
The Others
This is, by far, one of my favorite movies. It was my mom's favorite growing up, and she rented it at Blockbuster (remember those days??) for my friend and me to watch in our horror-movie-phase. It stars Nicole Kidman as an over-protective, religious mother living with her two children in an estate in the middle of nowhere. When her daughter starts claiming to see ghosts in the house, tearing down the curtains so needed for these children who are allergic to the sun, and the new housekeepers and gardener act suspiciously, the suspense almost becomes too much to bear! It still freaks me out to watch. If you like suspense thrillers, this one is for you.
The Awakening
Not based on the book I read in high school, thankfully, this film gets me in the suspense department, as well. It's about a young woman who's made a career of debunking seances, proving that these grieving people are wasting their money on a farce. She gets a request to investigate a "ghost" at an all-boys prep school in the country and takes the job. The only other woman on the property is an elderly housekeeper woman, played by Imelda Staunton aka Dolores Umbridge from the Harry Potter series. Don't let that shy you away from this movie, though! You'll find she has some out-of-whack viewpoints in this one as well. It's decent as far as movies go, but it does a solid job of keeping you on your toes with a pretty great twist.
The Addams Family
And the sequels for this one, as well. I love this dark and twisted family, the way many of their beliefs are reversed and how they feel about death. Wednesday Addams is one of my favorite characters of all time! She is dry and cynical and pretty badass. I love when their baby brother is born and they try all kinds of outrageous ways to get rid of him, failing miserably each time. It's entertaining. Or maybe I just have a dark and twisted mind? Maybe.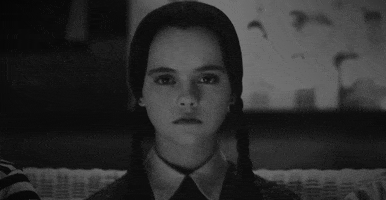 It's still a must-watch!
Caspar
And coming in hot for another one is Christina Ricci! This movie still gets me every time: a spooky house, a sweet little ghost, three obnoxious uncles, and Bill Pullman. You can't go wrong! This movie always freaked me out for a long time, but I watched it every year anyway. I couldn't get over how cute Devon Sawa (as human Caspar) was. I still can't get over it, to be honest. That blonde hair, blue-eyed, sweet boy…hm, sounds a bit like someone else I know. As I've gotten older, I've picked up on the humor and this movie has only grown more sentimental in my heart.
Also getting honorable mention here is Caspar and Wendy. I love little Hillary Duff!
The Haunted Mansion
Because it's Eddie Murphy, Disney, and it has a cool added backstory. Oh, and a creepy villain!
Edward Scissorhands
Johnny Depp, Winona Ryder, and tragedy, the perfect mix for my Friday nights. So this isn't a scary or suspenseful movie and it doesn't involved witches, ghosts, or goblins, but it belongs on this list. It has that darkness of a Tim Burton film, with a protagonist who is lonely, uncared for, and has scissors for hands, with a pang of love and love lost. And it leaves me a bit jumpy and anxious at times, as many movies of the season do.
Honorable mentions: Beetlejuice, Poltergeist, Friday the 13th, Zombieland, and that one episode of Boy Meets World that still gives me the heebie-jeebies! (Season 5, episode 17, to be specific).
Oh, and IT—can't forget my new favorite movie!!!
These are just my favorites and recommendations. There are plenty of other scary and suspenseful movies to sink you teeth into this October. I suggest Freeform's 13 Nights of Halloween for ideas.
I'm so excited for this time of the year! I wish it would last longer than just this month, but with my friends, I know it will last all year.
I'm going to see Matthew this weekend and he has a scary movie for us to watch together. Maybe it'll make the next edition. We'll just have to see!
Happy October, everyone! May your month be spooky and candy-filled and wonderful!
-Ash